LIST OF MODS
Exterior Modifications :
35 % window tint on the front
20 % window tint on the side and rear window
5 % Window Tint Strip across the top windshield
Borla angle cut 3.5 inch intercooler exhaust tips
3200 Blazer Tech Driving lights
Cool Blue headlight Bulbs
18" x 8 Chrome Eagle Alloys 077's
Tinted tail lights. by nightshades.
Interior Modifications / Cleaning Supplies
"Tuff Stuff" to clean the whole interior.
Zymol leather cleaner.
Wilsons Leather Cream. ( only for the leather to make it butter soft)
Mequires leather cream and conditioner.
Dual 15" red neon lights under the dash and dual 10" red neon's under the front seats to light up the rear floor.
2 sets of Varad Leds
Custom chrome letters on all the door sill plates.
Custom Switch panel to control the "underbody neons" " interior neons" and "knight rider".
Stereo/ Electrical Mods:
Pioneer Deh-8400mp3 headunit w/ organic el display
Pioneer 3 way 6x9's
JL Audio XR series 5.25 front w/ 1 inch tweeters.
Rockford Fosgate 250.2 punch amp w/ remote bass control 250x1 rms power 320 peak
12" mtx 6000 subwoofer soon to be replaced w/ a better JL audio unit
Rockford Fosgate 8 gauge power kit
RockFord Fosgate 1.0 Farad capacitor
DEI alarm system w/ 4 button remote and lots n lots of features. After it was installed i did some of my own mods to the system. More tape to cover the already all black wires, I then covered all the wires both stock and alarm in plastic tubing to hide them more then zip tied them. If that was not enough i re located the brain and covered the brain w/ another box n i added 3 sheets of aluminum to cover everything under the dash. if i was to remove the layers under my dash it would take me at least 10 min ripping stuff out then i would have to deal with tons of wires some connected some not.
Engine / Performance Modifications :
3800 Series II motor
Accell 8.8mm Race Wires.
Custom made hiflo fuel filter with A/N fittings.
AC Delco Rapid Fire plugs
Ram air ( look under mods for pics and how to's )
9 inch Cone style K&N air filter.
Custom made heat Shields.
Throttle Body heat shield
Replaced resonator after cat, with a straight 2.5 inch pipe.
180 thermostat w/ 4 holes in it to reduce KR
Dynomax Ulta Flow SS muffler 2.5 in dual 2.5 out
140 Amp Alternator
770 cca Battery
"Cool tape" on the fuel lines in the engine bay.
NEXT MOD : I had this idea before I thought about selling my car.
I am making my own A pillar guage pods,I am using some fiberglass material to mold on 2 universal guage pods and installing my autometer tranny temp and airfuel mix guages. (sport comp series)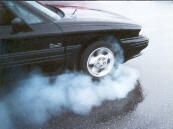 I did this because my friend stole my parking spot at work. I had to show him the power of the bonny.