This page contains pics of my 1999 Pontiac Bonneville.
This is a front shot w/ the headlight covers from JC Whitney.
I ordered the 92-95 covers and used a Dremel tool to shave the covers so that they would fit my 99.

The newset pic w/ tint and rims

Stock picture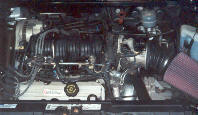 This is a picture of my 3800 Series II motor
Nice n clean and w/ out the cover it runs cool n fast.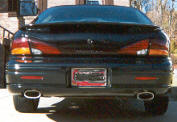 This is a rear shot of my car. When it was stock, I used a dremel tool to sand the tips and make them look shinny.
a shot of my resonator removed and replaced with a 2.5 inch pipe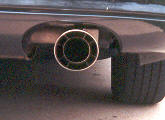 Here is a new shot with my Borla exhaust tips.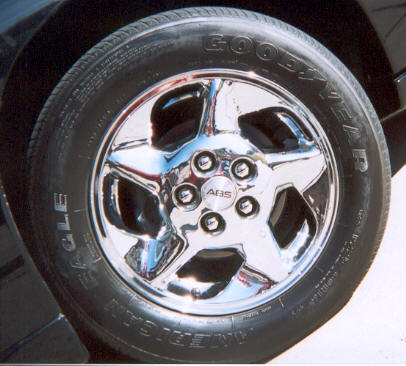 This is a large file shot of my stock rims. They are 16x7 w/ 225-60R16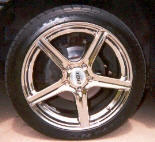 This is a picture of my NEW rims." EAGLE ALLOY 077's" They are 18x8 w/ 5x115 bolt pattern wrapped by 235-40-18 Nitto 555's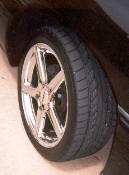 The tread design.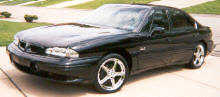 Angle shot
Here are some pics of my heated seats n switches

Here a pic of how it looks in the stock position as you can see the heated seat switches look stock.
Here is another view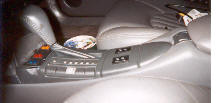 click for a larger picture
Here is a pic of my door sills I used chrome rocker tape and stenciled the letters then cut n pasted on the door sills. and it sticks even in bad weather.
HERE is a shot of my interior neons, you can't see the lights when u sit down only when u crawl under the dash It also blinks to the bass.
Here is a shot of my STREET GLOW underbody Neon Light kit GOLD SERIES

and here is where i mounted my transformer
the 9500 transformer is located underneath the coolant overflow tank.
SWITCH PANEL
Here is a picture of my Pioneer deh8400 cd/mp3 player. as you can see i had to cut the dash a little to let the face plate open. i was not happy with this but i was not going to take the cdplayer back. I am still looking for ideas on how to make this opening look better.
below the mp3 player is a VARAD led light thats connected to the interior neon lights neons,
I made the switch panel out of a plexiglass type material and used my dremel tool to cut the holes for the switches. In the picture u can see the panel is not completely flat but once I get a different amber switch everything will fit perfectly.
here is a night shot not a very good one but u get the idea.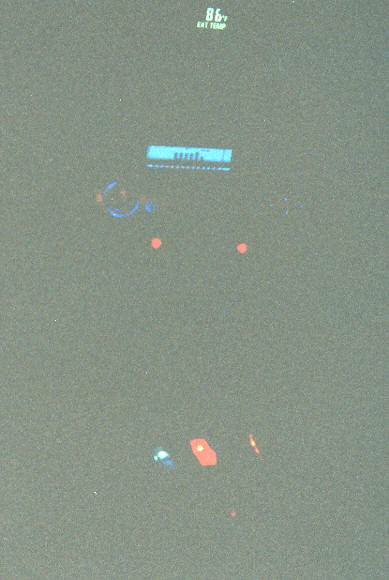 Here is a picture of my KNIGHT RIDER leds
my next mod is ...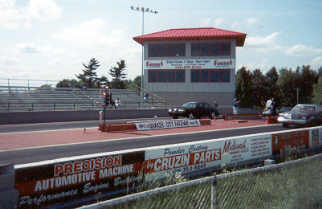 This is a pic of me Drag Racing my 99 Bonneville. Ill have more pics w/ info later.
My car ran a 15.9 @ 87 mph
The modifications I have on the car are listed in the mods page.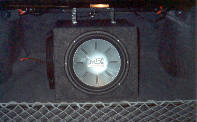 And finally here is a picture of my sub n box n amp in my trunk.